Wayne Armuth Retires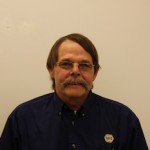 After an extensive career in the automotive aftermarket business, Columbus' Wayne Armuth has decided it is time to retire. Over 20 years of Wayne's career was spent with Southern Indiana Parts Inc., working both in Columbus and Nashville. Wayne also has had experience working in the Columbus NAPA store prior to SIPI's purchase of it in 1988.
Wayne's wealth of knowledge and friendly demeanor made him an asset in every role that he held. His tenure with SIPI includes holding the Store Manager position in both Nashville and Columbus. Most recently, he has been working as a counterman in Columbus as well as helping out with administrative work for the company.
On behalf of the company, I'd like to say thank you to Wayne for his service.
ENJOY YOUR RETIREMENT WAYNE!
Sam